FISHING IS MORE THAN OUR BUSINESS ... IT'S OUR PASSION!
Charter Fishing Lake Michigan
Big Daddy Charters LLC is a fully licensed and insured fishing charter based in Winthrop Harbor, Illinois, and Algoma, Wisconsin. We offer world class Lake Michigan salmon & trout fishing charters for anglers from April through October.
Licensed and Insured with over 30 years of Lake Michigan Fishing Experience.
You will be guided by a U.S. Coast Guard licensed Master Captain and a crew member to ensure the best safety and fishing success available. Our staff is friendly, personable, and determined to provide you with the best Lake Michigan Salmon and trout fishing charter possible.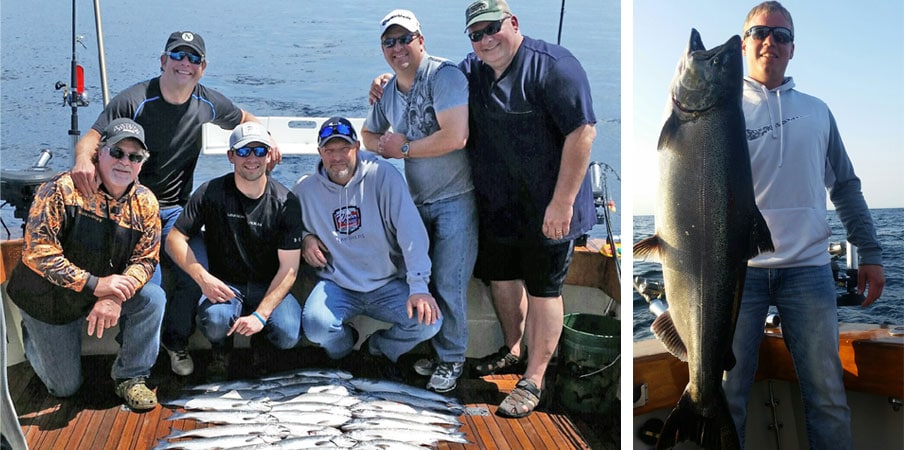 Big Daddy Charters LLC
Big Daddy Charters LLC is now located at two of the top fishing ports on Lake Michigan. We will be fishing the southern shores of Lake Michigan in Winthrop Harbor, IL for the months of April, May, and June. As this is nearly the best time to fill your coolers with some of the greatest action of the season on Coho salmon,Steelhead, and Lake trout.
Starting in the middle of June our charter service will relocate up to our northern port of Algoma, WI. Algoma is located on the base of the door county peninsula and is famed for having some of the largest king salmon on Lake Michigan. Our season starts there in June and will continue through the month of October. Our premier service offers fun-filled Lake Michigan salmon and trout fishing for all anglers. Join us aboard the Big Daddy Charters, with two deluxe charter boats designed for security and comfort. We are fully licensed and insured as a commercial fishing charter in the states of both Illinois and Wisconsin